Add a message : Carolyn's Precious Memories : Search
There are now 7271 messages in our guestbook.
<<< 1 465 466 467 468 469 470 471 472 473 474 475 476 477 478 479 480 481 482 483 484 485 >>>
Viewing messages 7111 to 7125.

Rhonda Moser
Thank you so much for this wonderful (and painful) reminder to all of us. Recently God has opened my eyes to judgements I have made 14 years ago and allowed me to repent of them, and ask forgiveness of the person.

27 October 2004 - United States (Indiana)
Elsa and Adrian. |
Hi Carolyn☺.
You should be very proud to have made such a wonderful site for yourself and everyone else to see and enjoy.
Your design, text and Graphics are very beautifully coordinated; a real picture.
Your introduction (about me) is grand, although short, it was very clear and explanatory.
I found peaceful, easy feelings on your pages.I saw serenity in your work, and my soul was at rest, my spirit...free. Thank you.
We thoroughly enjoyed our stay. Your pages are lovely, a real breath of fresh air.
You made a most awesome and wonderful website. We really enjoyed our selves by visiting your delightful pages.
Congratulations you have a very entertaining and beautiful site.
Thank you so much for sharing it ;-).

We have a family site and we just made our newest grandchild's pages, and we would like to share it with you.
We will leave you a link (banner) under the text, and if you so choose you can go directly there.
Of course it would be grand if you could also visit our web site.
If you find the time to visit our site, would you please jot down in our guest book what you think of our pages.

Thank you for the opportunity of visiting your excellent site.
May God ☼ bless you and all your family. Take Care, Elsa and Adrian. ☺

I really like this site I'll be back.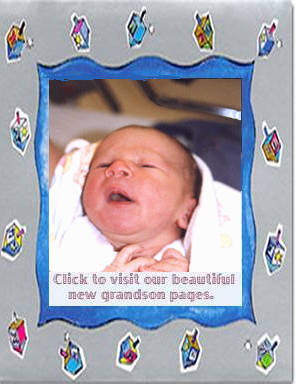 Please click banner to see our newest grandchild's
two web pages, with a summarization of the
lovely event; with many photos.




26 October 2004 - Montreal, Quebec, CANADA.
Fred Armstrong
How true these type of stories seem to be in today's society. But a church like ours (with GOD in it), one would be greeted with open arms.

24 October 2004 - Mt. Washington, Ky.
Andrea/Kentucky_Lady4 |
Hi Carolyn, I wanted to stop by and visit a bit, and totally enjoyed a few pages during my stay.. I always enjoy my visits here, so comfy and great Christian atmosphere!! Have a wonderful weekend and upcoming week.. Love ya', my sweet friend!

22 October 2004 - KY, USA
carrie
Thank you... what a warm and welcoming visit I had with you today.

21 October 2004 - Millington, Tn
Leo Broadwater
Turn your sound up and enjoy

19 October 2004
Delores |
You have a lovely site! It is special also because you honor the Lord. God bless you as you continue to exalt Him!

19 October 2004 - Kentucky
BARB
I LOVE YOUR SITE

19 October 2004 - CANADA
Melva |

Carolyn,
Once again I have come by and have been blessed by your new pages, and your old ones..
Your site is just so pretty, and the new pages you are adding are very special...
Your work for our Lord is beautiful..
Will be looking forward to your pages about Heathers wedding..And pray the weather is nice for that day! And all goes according to plans!
Thanks for the send out sunday, I enjoyed the site very much!!
God bless ya Carolyn...
Love ya...



19 October 2004 - Ca.
Patsy Perkins
IT REALLY TOUCHED MY HEART, SO PLEASE SEND ME ANOTHER ONE

18 October 2004 - U.S.A
Glenda H. Duckett
This was beautiful..Thank you.

glenda

18 October 2004 - Waynesville, North Carolina
George The Greek |

Your site "Fathers Love Letter" inspired me me. God Bless You.











18 October 2004  - Brooklyn, NY



Jerry |
Hello, Carolyn...It's just wonderful to visit today! Wanted to let ya know! =) Please know that you are loved and appreciated---do just keep on being a blessing---it's surely making a difference here in our "troubled world".
God bless you and yours!!

17 October 2004 - OH
Wilma Kanyo
This was the most beautiful thing ive received.

17 October 2004
Jimmy Weldon |
Well, dear friends...many of you [I certainly hope] will think of me as "Uncle" Jimmy Weldon. That was what I called myself on television with Webster Webfoot back in the 50s and 60s. Oh, yes...that goes waaaay back. But you younger viewers can think of me as YAKKY DOODLE, the little duck, in the Yogi Bear Show. I am the last living cast member of that program produced in 1962, '63 and '64. It can be seen on the Cartoon Network today. Bless your heart, Carolyn, for these "Precious Memories"....May God continue to bless you and those who visit your web site.

17 October 2004 - Burbank, California

<<< 1 465 466 467 468 469 470 471 472 473 474 475 476 477 478 479 480 481 482 483 484 485 >>> Thank You for signing my Guestbook