Add a message : Carolyn's Precious Memories : Search
There are now 7269 messages in our guestbook.
<<< 1 464 465 466 467 468 469 470 471 472 473 474 475 476 477 478 479 480 481 482 483 484 485 >>>
Viewing messages 7096 to 7110.

John |
Hi Carolyn,
Wow that is a lot of pages in your newest mailout and all so beautiful and nice as always. Enjoyed every one and see you even learned how to add music. Great Job Carolyn,
God Bless,
John

20 November 2004 - Waynesboro, Virginia
Sharon/AngelHeart |
Carolyn..
Forgive me for not coming more often, job keeps hubby and I so so busy, but this time of Thanksgiving for all of our blessings, I think of my friends who have been so kind, so wanted to pop in and send my love and wishes to you and yours for a Blessed Thanksgiving!!!!!

19 November 2004 - Virginia
JOANNE CARTER
THIS IS A VERY SPECIAL SITE.. IWISH I HAD MORE TIME TO BROWSE..GOD BLESS AND KEEP UP THE WONDERFUL WORK..

18 November 2004 - KENTUCKY
Przemysław |
Hi
You have interesting website.
Greetings from Poland send Przemek

17 November 2004 - Rybnik///Poland
John |
You have a wonderful site.....I have enjoyed my visit very much!

12 November 2004 - Wisconsin, USA
Lewis Johnson |
I'm new at finding and/or viewing websites... I'm impressed and hope to see and learn more.

8 November 2004 - Columbia, SC
Lisa Mitchell
You are my Father & I do know you- 4 ,I'm your child. I love U Father- Please take care of me & mine.Love Always,Lisa

8 November 2004 - Warrior ,Alabama
gene |
very nice web site you have here very good smiles

6 November 2004
donald
please pray that i can find funding to build a christan camp ground in a poverty strickned area of eastern kentucky for the children here

6 November 2004 - stearns kentucky
Karen Conerly
This is the MOST BEAUTIFUL site that I have ever seen:-) Thank you so very much for sharing your beloved and precious world with me.

May God alwayss shine His Wondrous Loving Grace and Blessings down upon you and yours:-)

Sincerely,
Karen Conerly, and Kitties

1 November 2004 - Buffalo, New York
Heleca |


http://heleca.mine.nu/en_ny_hemsida_heleca_4/banners_skick2.jpg

1 November 2004 - Sweden
Cindy Walters
Carolyn..I came across your site thru Coco's website.You are doing your job well.When I clicked on your site,you can feel the love and peace on it.

31 October 2004 - Pumpkin Center,Louisiana
Michelle Feaster
That story touched my heart. To many people are quick to judge others before even knowing who they are.

29 October 2004 - Lexington, SC
Rhonda Moser
Thank you so much for this wonderful (and painful) reminder to all of us. Recently God has opened my eyes to judgements I have made 14 years ago and allowed me to repent of them, and ask forgiveness of the person.

27 October 2004 - United States (Indiana)
Elsa and Adrian. |
Hi Carolyn☺.
You should be very proud to have made such a wonderful site for yourself and everyone else to see and enjoy.
Your design, text and Graphics are very beautifully coordinated; a real picture.
Your introduction (about me) is grand, although short, it was very clear and explanatory.
I found peaceful, easy feelings on your pages.I saw serenity in your work, and my soul was at rest, my spirit...free. Thank you.
We thoroughly enjoyed our stay. Your pages are lovely, a real breath of fresh air.
You made a most awesome and wonderful website. We really enjoyed our selves by visiting your delightful pages.
Congratulations you have a very entertaining and beautiful site.
Thank you so much for sharing it ;-).

We have a family site and we just made our newest grandchild's pages, and we would like to share it with you.
We will leave you a link (banner) under the text, and if you so choose you can go directly there.
Of course it would be grand if you could also visit our web site.
If you find the time to visit our site, would you please jot down in our guest book what you think of our pages.

Thank you for the opportunity of visiting your excellent site.
May God ☼ bless you and all your family. Take Care, Elsa and Adrian. ☺

I really like this site I'll be back.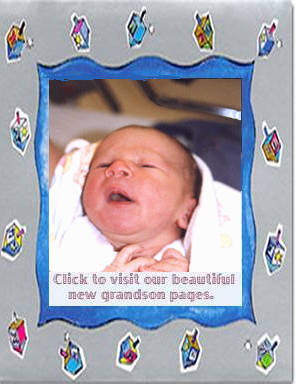 Please click banner to see our newest grandchild's
two web pages, with a summarization of the
lovely event; with many photos.




26 October 2004 - Montreal, Quebec, CANADA.

<<< 1 464 465 466 467 468 469 470 471 472 473 474 475 476 477 478 479 480 481 482 483 484 485 >>> Thank You for signing my Guestbook