Add a message : Carolyn's Precious Memories : Search
There are now 7265 messages in our guestbook.
<<< 1 451 452 453 454 455 456 457 458 459 460 461 462 463 464 465 466 467 468 469 470 471 485 >>>
Viewing messages 6901 to 6915.

Larry Peart |
what wonderful work you do Memaw, i hope that you will be feeling better and the move for you and your family will be over soon and things will getback to normal. thanks my friend for all you do. Love ya and happy easter

23 March 2005 - Alabama
---
Webmaster comments Hi Larry,
Oh thank you so much for your kind words.I will be well soon, I hope. This move has almost was a job. But soon will be unpacked and well with my hand I pray. Just keep praying for ole Memaw. We have been friends many years now..I do pray for you and your family daily. Your Mom too..God Bless You Larry, love memaw
Judy |
Hi there Sis! Beautiful! Just got to my mail after getting my newsletter out and seen you had sent one this morning. Just visited each new page and as I said in the beginning beautiful!!! I couldn't even begin to pick a favorite it was just too hard. So glad you are back to work as I am trying to get going also and will hear from you more. You shouldn't be thanking us, we should be thanking you for bringing your pages of our Lord into our lives as that is what the world needs right now. Have a blessed Easter and hope you are well soon.
Love
Judy

23 March 2005 - New York and snowing
---
Webmaster comments Hi Judy,
Well thought I had better try and get some messages done today.Going to the Doctor this afternoon.This move has been hard and will take me forever to unpack and get organized.It is your turn next..lol Thanks so much for taking the time to visit me and for signing my book too..Am looking forward to getting back to work and doing things I have been wanting to learn. Also looking forward to your newsletters. It is Spring in Calif..God Bless Judy, Love Carolyn
Southbreeze |
Dearest Carolyn... I am so honored to be a part of Amber's page. I grew to love this sweet angel as I wrote the poem, and it is so comforting to know she's in the arms of Jesus.
The poems by Sondra and Brother Bob were so touching and I loved your new receipe for Coconut cake! So many wonderful things to see on your website.
Thank you for sharing them with others such as me. I always feel blessed by having visited.
Love,
southbreeze

23 March 2005 - Georgia, USA
---
Webmaster comments Hi South,
You just have no idea how much you writing the beautiful poem for Heather about her little girl Amber meant to her and to us.Each word brings back so many good memories of her. Thank You so much for your kindness to our family. Sondra and Bro.Bob can write such good and wonderful Christian poems for me too.Thank You for coming to see me and I will be over to visit you again too..Love You, Carolyn
Brother Bob |
Sis. Carolyn,

I had never visited your recipe page before. The cocoanut cake sounded delicious! However, I'm trying to lose some weight, doctor's orders. Also, my body is talking to me! I will be praying for you! Get well soon! I miss getting a personal email from you from time to time! "Keep the faith!" Maranatha! GOD IS GOOD AND HIS MERCY ENDURETH FOREVER!

IN HIS SERVICE,

~BROTHER BOB~

23 March 2005 - Ohio
---
Webmaster comments Hi Bro. Bob: It is so good to hear from you.I do have to get another poem of yours on my site as soon as I get back to work. I have to see the Doctor today and hope he does not get me for eating Coconut Cake,lol. I will send a email soon. Thanks so much for signing my book..I will come and see your new site again.. God Bless You, Carolyn
Connie |
Hello! My name is Connie & I'm a member of
The Garden Of Friendship.
I think you and your site would make
A lovely addition got our Family Group.
We would be honored to have you
As a member in our lovely growing family.
We are an active group with 31 committee's
So there's plenty to do and see.
If you decide to become a member
Tell them
Connie invited you.
Hope to see you there soon!!!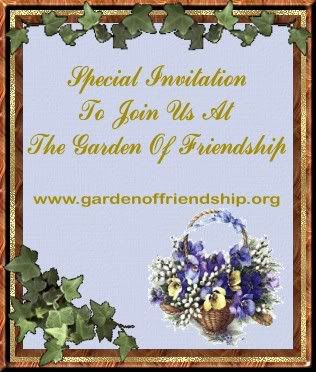 23 March 2005 - Pennsylvania
---
Webmaster comments Hi Connie,
Thank you for your nice comments and encouragement. I know you all have a great ring..I just am not able to join anything at this time..Thank You so much for the invitation..God Bless You All, Carolyn
MARY TINDALL
DEAR CAROLYN..I AM SORRY I DIDN'T KNOW YOU WERE NOT WELL..I HAVE WONDERED WHY I HAVE GOTTEN NO REPLY FROM YOU..PLEASE, I HOPE YOU HAVE PLACED IT INTO GOD'S CAPABLE HEALING HANDS..JUST LEAVE IT UP TO HIM.HAVE FAITH AND ALL WILL BE WELL. YOU ARE DOING TO GOOD A JOB FOR OUR SAVIOR..HE LOVES WHAT YOU DO FOR HIM. GOD BE WITH YOU ALWAYS....BY THE WAY IT WAS SO NICE SPENDING A HOUR HERE TODAY..YOU HAVE LOTS OF LOVELY NEW ONES..I LOVE YOU.MARY T.

21 March 2005 - TORONTO ON..CANADA
---
Webmaster comments Hi Mary,
Oh my sweet friend in Canada.I have missed you so much.I do think of you and Jack every day.And pray for Jack and for you to continue to have strength to take care of him. I have been off with my hand for sometime now. But I am praying soon to be back. It is so hard to type with one hand.You keep the Welcome page in your favorites..That song is one of my biggest hits..I Love You and Jack Too, Carolyn
Jim Clark |
This note is to signify that I have moved my web site, "Pilgrim Jim's Treasure Field", to this adress: http://faithmemories.com
I read an article on this site about Corn Cob Battles Around The Barn and I also have an article on my MEMORIES page that mentions such activity. The link to the article is http://faithmemories.com/ditch.htm

18 March 2005 - Niles, Michigan
---
Webmaster comments Hi Jim,
I got your message and also your corn cob battles read.I sent your note to Poetress Gayle for her to enjoy.You all seem like you had so much fun with those corn cob battles..I will be back to see you as soon as I can..God Bless, Carolyn
Mary Beatty |
What a heart-touching site! I'm so happy I found it... MY KIND OF MUSIC!! Better than church-LOL! Two words for you: MORE, MORE! Stop in for an armchair viewing of my Wannabe Art Gallery when you get a tiny little minute to spare. Somewhere in those nine galleries you'll find a very personal painting entitled PRECIOUS MEMORIES. Lord Bless you and all you love and all you do for Him. Mary

18 March 2005 - Indiana
---
Webmaster comments Hi Mary,
I am so happy to hear from folks that love my kind of music too.. We do love our Southern Gospel. My only regret at this time, is that I want to get back up and sing again. New songs will be coming as soon as I get back to work from my hand problem.I will be over to see all of your site too..I sure will..God Bless You, Carolyn
Genelle Tennant |
Dear Carolyn,
I've just been visiting here and thought I'd take the time to say hello and I hope you're feeling better! You have such a precious site here. What a loving heart for children and for those who have suffered in many ways! God Bless you in this ministry! I know He keeps you in His arms always! You are a special lady with a sweet spirit!
Love You!
Genelle

18 March 2005 - Claremore, Oklahoma
---
Webmaster comments Hi Gen,
Oh my little friend from Okla..I am so happy to hear from you.I still am not back working yet, but will as soon as I can..I know you know this feeling too. It is hard to work with only one hand doing all of the typing..Thanks Gen for being such a sweet friend and for so long..I love using your songs on my site..God has Blessed you so much since we met. And you are a blessing to all of us..Love You Dearly, CJ
Cindy Cole
God bless you.

17 March 2005 - SC
---
Webmaster comments Hi Cindy,
Thank you for taking the time to sign my book.I do love to hear from my friends from the south..God Bless, Carolyn
Gineke |
It was a pleasure to see your site.
Keep up the good work!
Greetings
Gineke

17 March 2005 - Netherlands
---
Webmaster comments Hi Gineke,
Thank You for your visit and for taking the time to leave me your nice comments.I sure do appreciate all of your encouragment.I love having friends come from all over the world.God Bless You, Carolyn
Foma
I love this page. It looks really nice. Keep it up



17 March 2005 - Singapore
---
Webmaster comments Hello Foma, Thank you so much for your visit. Thank you for your nice comments. God Bless, Carolyn
janet evans
Loved learning about and feel an affinity. I, too, felt strongly the call to be a missionary but didn't quite get there. Then I realised my family was my mission field.Now I serve by printing& sharing poetry.

16 March 2005 - Australia
---
Webmaster comments Hello Janet,
Thank you so much for your visit and for taking the time to sign in. It is hard when we have that strong feeling of being called for Missionary work and did not continue to follow. But I do believe with all my heart that God brings us through by working for Him in other ways. We can reach many souls and lives through this big internet. Yes being a Mother or Father is a Mission for sure. You are doing what God had waiting for you too now.. God Bless You Janet, Carolyn
Gale Perkins |
what a beautiful website. I truly felt at peace when looking at it.. the sentiments are what I feel in my heart. My home has always had open doors and room for listening to all who enter. The good Lord has been my salvation. Thank you for sharing your site. Gale

16 March 2005 - United States
---
Webmaster comments Hi Gale,
Thank you so much for your wonderful comments about what I have on my sites.I am glad to know that you feel peaceful here.I do alot of this for my peace too and with the love of God here.Please do come and visit me anytime..I will be over to visit you very soon..I am off due to a hurt arm and hand..But will be there soon. God Bless You, Love Carolyn
Debie |
Hi! I found your site through a great friend - Southbreeze! I am enjoying my visit, lovely site!! LOVE the music!

15 March 2005 - Ohio
---
Webmaster comments Hi Debie,
Thank you so much for your visit and for taking the time to sign my book.I am glad that you like my kind of music too.I will be over to visit you as soon as I can get there. Thanks again.. God Bless, Carolyn

<<< 1 451 452 453 454 455 456 457 458 459 460 461 462 463 464 465 466 467 468 469 470 471 485 >>> Thank You for signing my Guestbook