Add a message : Carolyn's Precious Memories : Search
There are now 7263 messages in our guestbook.
<<< 1 450 451 452 453 454 455 456 457 458 459 460 461 462 463 464 465 466 467 468 469 470 485 >>>
Viewing messages 6886 to 6900.

Kimberley Horton
I would just like to say, God Bless You. My son is 24 years old, and he got saved today. (Easter Day) And today my heart and soul is so blessed to see it happen. You see my son lost his little boy and his sister-in-law back in June of 2004, in a really bad car accident. And now I know that someday he will see them again. And I pray that at least one person a day will be saved.

28 March 2005 - Quinlan,tx. USA
---
Webmaster comments Hello Kimberley,
What great news about your son being saved on Easter.I am sorry that it has taken me so long in getting back to you, I have been off line.I am so sorry to hear that your Son lost his little boy.That is very sad for me to know.Also for his Sister-In-Law too.That is so sad.But yes, now he can join them in Heaven someday, and what a great reunion that will be.My thoughts and prayers are with you too Kimberley as I know you hurt too.I have been through this myself.But we lean on God and head for Heaven.Please do come back often.And thank you for sharing your Joy about your Son.God Bless You, Love Carolyn
Sandra Minix
What a wonderful website this is and how "Annointed by The Holy Spirit". My husband who just signed your Guest Book before me is in Iraq and I am in Texas and if it wasn't for JESUS what Hope would we have. The music is beautiful and I like the way you have scripture verses running above my lower task bar. Just now noticed that. I am so thankful Jesus died for my sins and is my soon coming "King of Kings and Lord of Lords". I do serve a risen Saviour!!!!
Sandra Minix

27 March 2005 - Texas
---
Webmaster comments Hi Sandra,
I wanted to leave you my comments as I am off for a short time with my arm and hand.But I did write your husband a note in an email to let him know how very proud we are here of all of the men and women in Iraq.I do love God and would not make it without Him.How could we go through each day without God? It would be so hard for you and all of the families at this time also.Thanks so much for the nice comments on my gospel singing.I do love it so much and wish I was still singing. One day we will all be in Heaven singing together.I will see you there. God Bless Sandra, Love Carolyn
Ron Minix
I was so blessed by the "Do you believe in Easter" Story that I had to find more on the music and that Love for Jesus. I went to the properties of the story and here I am enjoying your wonderful stories and music on my computer in Baghdad, Iraq!

27 March 2005 - KBR in U.S. Army Camp Rustamiyah, Iraq
---
Webmaster comments Hi Ron,
It is so good to hear from you and all the way from Iraq.I am glad to know that you enjoyed your visit and the music on my site.I do want to say, we are so proud of you and all of the men and women that are serving our country at this time of war.You are all in my daily thoughts and prayers..God Bless You Ron, Carolyn
Eva-Maria |
So beautiful and touching here - thank you for sharing!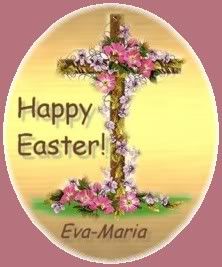 26 March 2005 - Finland
---
Webmaster comments Hi Eva-Marie,
Thank you so much for your visit to my site for Easter.I appreciate your kindness so much.God Bless You, Carolyn
Dianne C
Of all the poems, messages and stories
I have heard of Easter, this is by far
the most wonderful and inspirational and I am very very thankful that I was
sent this. God bless everybody and a
very Happy and Precious Easter to all.

Love
Dianne C

26 March 2005 - Winnipeg, Mb, Canada
---
Webmaster comments Hello Dianne,
Thank you so much for taking the time to sign my book with your very encouraging words about my Easter pages.I thank you for your visit..I think of Bro. Billy Graham when I see where you live.*S* Please do come and visit me anyime, and I will be back to work soon..God Bless You, Love Carolyn
DoedeP |
Hello our Precious Carolyn,
I'm so thankful I am able to get in your site again. I have for some reason been unable to.How wonderful to get to visit your Easter pages, being so beautiful and exciting as I thoughts are magnified thinking of our Savior, and death has been conquered, at calvary when He was on that cross! That the same power that our Blessed and Precious Redeemer arose from the grove with will also be the power which we His children will be caught up together in the clouds with Him, to live eternally with Christ in our mansions prepared by him! I am reminded of our Precious love ones, Dear Carolyn, that they too will join us in the clouds these moments! Our love ones now living with Jesus and waiting with Him, for us to join the face-to-face, eternally!! Praise His name our Precious and blessed Savior, King of Kings for His Glorious and Amazing Grace!!
I Love you, Carolyn,
Doede

26 March 2005
---
Webmaster comments Hi Doede,
Oh how happy I was to see that you have visited me while being off..I will be back as soon as I can.You always give me so much encouragment with your sweet words.One day we will see all of our loved ones that have gone on before us..And we can all sing together with them again.Your Daddy too Doede..Thanks for your great and wonderful friendship over these years..God Bless You Doede and I Love You Too, Carolyn
katherine
Give thanks to the Lord, for He is good: His love endures forever Psalm 118:1
He is not here: He has risen, just as He said --Matt. 28:5 ---Let the earth rejoice. Christ the Lord is risen!--
Have a Happy Easter. Carolyn bless you
and your. Love Katherine

26 March 2005 - USA
---
Webmaster comments Hi Katherine,I do love your scripture. One of my favorite too. Thank you for coming to visit me while I have been off line..I will return soon.God Bless You, Love Carolyn
kathleen baker
i loved your card and yes i do believe in my father in heaven GOD BLESS YOU ALL

25 March 2005
---
Webmaster comments Hi Kathleen,
Thank you for your encouragement by signing in.I am so happy to hear from all of my Christian friends.God Bless You, Love Carolyn
Nareen |
Your site is a beautiful blessing to all who view it. I especially love your Easter pages. Thank you.

25 March 2005 - Oklahoma
---
Webmaster comments Hello Nareen,
Thank you for visiting me for Easter and for taking the time to let me know how much you enjoyed my Easter pages.Your encouragement means so much. God Bless You, Carolyn
Marie |
Hi Carolyn! I wanted to stop by and say hello and wish you blessings through our Lord for a wonderful Easter. Praise God, we do have something special to celebrate all year long! He has risen!






24 March 2005 - Oklahoma
---
Webmaster comments Hi Marie,
Thank you for coming to visit me for Easter.I am still off line. But I wanted to leave some comments as I can at this time.I hope your doing good and will be back to see you soon.The best way to visit friends that live all over the world is on the internet..God Bless Marie,Love Carolyn
Dee |
"He Is Risen" -- so inspirationally composed by dear Sondra and so beautifully designed by you dearest Carolyn. I continue to thank God for your beautiful blessings, and continue to ask for prayers for you and pray that you are completely healed. The graphic design was truly breathtakingly beautiful...and I am always blessed with my visits to your loving home. God bless you...Love, Dee
23 March 2005 - Philadelphia
---
Webmaster comments Hi Dee,
It is always so good to hear from you. I am glad that you enjoyed He Is Risen. Thank You Dee for always being here with such encouragement for me and for everyone.You are in my thoughts and prayers daily now too.God Bless Dee as you are going through your sad times of losing Pope John Paul, Love You Carolyn
Kentucky_Lady4 (Andrea) |
Carolyn, So glad you are feeling better!! Take care of that arm and hand during the move!!
I have had a wonderful visit reading the inspiring poems and pages. I loved each one and thank you for sharing your beautiful pages with me. The one about Amber, by South, was so very touching. I also want to wish you a very blessed Easter, my friend!

23 March 2005 - KY, USA
---
Webmaster comments Hi Andrea,
Thanks for your visit while I have been off and still am for awhile.I am just doing prayers and emails to hurting people. So many need encouragement right now.I will come to visit you as soon as I can..Going to see the Doctor again today..God Bless Andrea, Hugs Carolyn
Larry Peart |
what wonderful work you do Memaw, i hope that you will be feeling better and the move for you and your family will be over soon and things will getback to normal. thanks my friend for all you do. Love ya and happy easter

23 March 2005 - Alabama
---
Webmaster comments Hi Larry,
Oh thank you so much for your kind words.I will be well soon, I hope. This move has almost was a job. But soon will be unpacked and well with my hand I pray. Just keep praying for ole Memaw. We have been friends many years now..I do pray for you and your family daily. Your Mom too..God Bless You Larry, love memaw
Judy |
Hi there Sis! Beautiful! Just got to my mail after getting my newsletter out and seen you had sent one this morning. Just visited each new page and as I said in the beginning beautiful!!! I couldn't even begin to pick a favorite it was just too hard. So glad you are back to work as I am trying to get going also and will hear from you more. You shouldn't be thanking us, we should be thanking you for bringing your pages of our Lord into our lives as that is what the world needs right now. Have a blessed Easter and hope you are well soon.
Love
Judy

23 March 2005 - New York and snowing
---
Webmaster comments Hi Judy,
Well thought I had better try and get some messages done today.Going to the Doctor this afternoon.This move has been hard and will take me forever to unpack and get organized.It is your turn next..lol Thanks so much for taking the time to visit me and for signing my book too..Am looking forward to getting back to work and doing things I have been wanting to learn. Also looking forward to your newsletters. It is Spring in Calif..God Bless Judy, Love Carolyn

<<< 1 450 451 452 453 454 455 456 457 458 459 460 461 462 463 464 465 466 467 468 469 470 485 >>> Thank You for signing my Guestbook