Add a message : Carolyn's Precious Memories : Search
There are now 7271 messages in our guestbook.
<<< 1 450 451 452 453 454 455 456 457 458 459 460 461 462 463 464 465 466 467 468 469 470 485 >>>
Viewing messages 6886 to 6900.

DoedeP |
Hello our So Sweet Carolyn,
Lovin you, and thanking our Father for you, in my heart, because of His precious love.
I have paused to pray for you, concerning your hand and arm, and thanking our Lord, for you. Isn't it so wonderful we can go to our Jesus anytime, wherever we are, knowing He is always with us, ready to hear words from our heart, greeting us with His stretched out arms, holding us in his bosom, at the throne of His grace. What peace! What would we do without our Jesus? Where would we be? He keeps getting sweeter in my life everyday, the more I get to know Him and His love, and love Him.
Carolyn, today, is our darlin grandson Brent's 10th heavenly birthday. We miss him so much. Thank you for visiting his Memorial page and you left such precious comforting words from your heart. I can see our Brent with your darlin granddaughter holding hands with our Jesus, Angels with them, strolling along heaven together.
The URL I have left is one that reminds me of Brent and his little brother, Kyle. They loved fishing at their other granma's little pond....and too, Brent was so precious with his humor...I think he will like it if I leave this one for him.
Our Francine wrote the poem, sending to me the day and month of Brent's birthday in heaven, not knowing was his Heavenly birthday.
Missing you Carolyn, you are SO loved, and Precious!
Doede

9 April 2005
---
Webmaster comments Hi Doede,
Thank you so much for your prayers for me.I am still off, but wanted to come and write a few of my comments as I can.I did get to read this and sure did appreciate you coming and taking time to leave me some of your sweet encouraging words. Your grandson was so precious.I want to say, is precious.He sure is..One day, we will be with our grandchildren again Doede, and I am sure Brent is taking good care of Amber. I can just see them now. We have to think this way, Doede to get us through the hard times.But one day no more crying or wanting to see them, as we will be with them.I sure am looking forward to that great day.Kyle is a doll too.Francine does always write sweet poems for children.She is a true angel.I did think about you and all of your family on the 10th and still do..I love You Doede.You mean so much to me.God Bless You, Hugs Too, Carolyn
Carol Stricklan |
This is a great place. We just found it through a good friend. Thank You

6 April 2005 - Lake Havasu City, AZ
---
Webmaster comments Hi Carol,
Thank you for coming to visit me.I have been offline and still am.But hope to be back very soon with some updates.Please come and visit anytime.God Bless You, Carolyn
Janet Burton
This is the most beautiful poem. It absolutely made my day. May "The Good Lord Bless andKeep You Sve."

5 April 2005 - Edinburgh, Indiana
---
Webmaster comments Hi Janet,
I am happy to know that you enjoyed the poems.I am not sure which one, but just so you were blessed with it.Thank you for taking the time to leave words in my guestbook.God Bless You, Love Carolyn
Sharon/AngelHeart |
Dear Carolyn,
First thank you very much for your kind words and visiting my humble page, It meant alot to me..
I was reading Saturday Nite Baths and giggling, for it brought back memories of when My Mothers friends use to tell her "Rosalind, you're going to kill that poor childs skin" she would bathe me in Tide detergent, said to get my knees clean....LOL I was quite the Lil tomboy, but that page caught my eye and it made me drift back to good memories, something we all love to you..Blessings to you Carolyn and again, thank you!

5 April 2005 - Virginia Beach, Virginia
---
Webmaster comments Hi Sharon,
So good to see that you were here while I have been off moving and moving.I will return as soon as I can.I am glad to know that you had a chuckle with Sat Night Baths.I do remember that old zink tub.lol God Bless Sharon, Love Carolyn
Bill Gathings |
A beautiful and comforting retreat for all that are weary and needy for the love of God in their life. "Beautiful for situation, the joy of the whole earth, is mount Zion, on the sides of the north, the city of the great King. God is known is her palaces for a refuge." Psa 48:2-3

3 April 2005 - Cedar Hill, Texas
---
Webmaster comments Thank You Bill for the encouraging words.The scripture is a very great one for all of us..Thank You for taking the time to leave words in our guestbook..God Bless, Carolyn
betty |
i have visit your web page before
i have moved , in moving i lost you ,
i enjoy your site so much .
i don`t have a site of my own ,
i just enjoy sending e-mail to friends
thank you very much , betty .

2 April 2005 - USA
---
Webmaster comments Hi Betty,
Well I am so happy to know that you found me again.I hope you will enjoy all that I have been doing and will continue to do as soon as I come back on to work.Your words are very encouraging to me.Thank You so much, God Bless You Betty, Carolyn
Susie M. Herold |
Hi Carolyn, I'm Billy Ray Alday's younger sister in Maryland. Bill sent me your website and I am extremely impressed. I am struggling with the devil and getting to church at this time. I haven't been going for quite a few years even tho I grew up in a very religeous background. I have a problem with how men of the church treat women and get turned off each time I attend, therefore I let the devil use this and keep me away. I enjoyed your music; it brought back memories. I believe God uses each of us in a way to help others, and I believe he has sent you through Bill to help me. I need your prayers.

31 March 2005 - Indian Head, MD
---
Webmaster comments Hi Susie,
It is nice to know you too.We will sure keep you in our prayers Susie.Just tell that ole devil to flee and he has too.You know Susie, things do happen in church too, and that is when we have to be strong.I can only pray that my site will reach many lost souls, and that has happened alot.God is good and He will send who or what we need to reach each other.I sure will pray for you.Just coming and talking about your hurts is a first step to the best life ever.Please do visit me anytime.My Gospel Songs are on all the time.And remember Jesus Loves You!!! God Bless Susie, Carolyn
Trisha |
( BIG HUGS TO YA )...I HAVE REALLY MISSED YOU ! I'M BACK ON LINE FOR NOW AND TRYING TO LEARN ALL OVER AND START AGAIN.I HAVE FORGOTTEN HOW TO DO SO MANY THINGS AND HAVE LOST SO MUCH.BUT I WILL GIVE IT A TRY ANYWAYS ! HOPE YOU HAVE BEEN WELL AND I LOOK FORWARD TO HEARING FROM YOU SOON AS YOU GET A CHANCE ..O~KAY ! SINCERLY,TRISHA

29 March 2005 - FOR NOW STAUNTON VA.
---
Webmaster comments Hi Trisha,
Big Hugs Back To Ya..I have missed you too so much.I am so happy to see you working on your site, and coming to visit me.You are doing great on your site.You learned so fast and it is all coming back.You will pass me up in no time.I hope to be able to come back online and make some pages soon.I am still off with my hand and arm.This move did not help at all..lol God Bless Trisha, Love You Carolyn
Kimberley Horton
I would just like to say, God Bless You. My son is 24 years old, and he got saved today. (Easter Day) And today my heart and soul is so blessed to see it happen. You see my son lost his little boy and his sister-in-law back in June of 2004, in a really bad car accident. And now I know that someday he will see them again. And I pray that at least one person a day will be saved.

28 March 2005 - Quinlan,tx. USA
---
Webmaster comments Hello Kimberley,
What great news about your son being saved on Easter.I am sorry that it has taken me so long in getting back to you, I have been off line.I am so sorry to hear that your Son lost his little boy.That is very sad for me to know.Also for his Sister-In-Law too.That is so sad.But yes, now he can join them in Heaven someday, and what a great reunion that will be.My thoughts and prayers are with you too Kimberley as I know you hurt too.I have been through this myself.But we lean on God and head for Heaven.Please do come back often.And thank you for sharing your Joy about your Son.God Bless You, Love Carolyn
Sandra Minix
What a wonderful website this is and how "Annointed by The Holy Spirit". My husband who just signed your Guest Book before me is in Iraq and I am in Texas and if it wasn't for JESUS what Hope would we have. The music is beautiful and I like the way you have scripture verses running above my lower task bar. Just now noticed that. I am so thankful Jesus died for my sins and is my soon coming "King of Kings and Lord of Lords". I do serve a risen Saviour!!!!
Sandra Minix

27 March 2005 - Texas
---
Webmaster comments Hi Sandra,
I wanted to leave you my comments as I am off for a short time with my arm and hand.But I did write your husband a note in an email to let him know how very proud we are here of all of the men and women in Iraq.I do love God and would not make it without Him.How could we go through each day without God? It would be so hard for you and all of the families at this time also.Thanks so much for the nice comments on my gospel singing.I do love it so much and wish I was still singing. One day we will all be in Heaven singing together.I will see you there. God Bless Sandra, Love Carolyn
Ron Minix
I was so blessed by the "Do you believe in Easter" Story that I had to find more on the music and that Love for Jesus. I went to the properties of the story and here I am enjoying your wonderful stories and music on my computer in Baghdad, Iraq!

27 March 2005 - KBR in U.S. Army Camp Rustamiyah, Iraq
---
Webmaster comments Hi Ron,
It is so good to hear from you and all the way from Iraq.I am glad to know that you enjoyed your visit and the music on my site.I do want to say, we are so proud of you and all of the men and women that are serving our country at this time of war.You are all in my daily thoughts and prayers..God Bless You Ron, Carolyn
Eva-Maria |
So beautiful and touching here - thank you for sharing!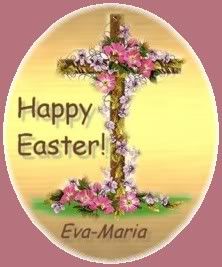 26 March 2005 - Finland
---
Webmaster comments Hi Eva-Marie,
Thank you so much for your visit to my site for Easter.I appreciate your kindness so much.God Bless You, Carolyn
Dianne C
Of all the poems, messages and stories
I have heard of Easter, this is by far
the most wonderful and inspirational and I am very very thankful that I was
sent this. God bless everybody and a
very Happy and Precious Easter to all.

Love
Dianne C

26 March 2005 - Winnipeg, Mb, Canada
---
Webmaster comments Hello Dianne,
Thank you so much for taking the time to sign my book with your very encouraging words about my Easter pages.I thank you for your visit..I think of Bro. Billy Graham when I see where you live.*S* Please do come and visit me anyime, and I will be back to work soon..God Bless You, Love Carolyn
DoedeP |
Hello our Precious Carolyn,
I'm so thankful I am able to get in your site again. I have for some reason been unable to.How wonderful to get to visit your Easter pages, being so beautiful and exciting as I thoughts are magnified thinking of our Savior, and death has been conquered, at calvary when He was on that cross! That the same power that our Blessed and Precious Redeemer arose from the grove with will also be the power which we His children will be caught up together in the clouds with Him, to live eternally with Christ in our mansions prepared by him! I am reminded of our Precious love ones, Dear Carolyn, that they too will join us in the clouds these moments! Our love ones now living with Jesus and waiting with Him, for us to join the face-to-face, eternally!! Praise His name our Precious and blessed Savior, King of Kings for His Glorious and Amazing Grace!!
I Love you, Carolyn,
Doede

26 March 2005
---
Webmaster comments Hi Doede,
Oh how happy I was to see that you have visited me while being off..I will be back as soon as I can.You always give me so much encouragment with your sweet words.One day we will see all of our loved ones that have gone on before us..And we can all sing together with them again.Your Daddy too Doede..Thanks for your great and wonderful friendship over these years..God Bless You Doede and I Love You Too, Carolyn

<<< 1 450 451 452 453 454 455 456 457 458 459 460 461 462 463 464 465 466 467 468 469 470 485 >>> Thank You for signing my Guestbook