Add a message : Carolyn's Precious Memories : Search
There are now 7271 messages in our guestbook.
<<< 1 384 385 386 387 388 389 390 391 392 393 394 395 396 397 398 399 400 401 402 403 404 485 >>>
Viewing messages 5896 to 5910.

Sharon/AngelHeart |
Sweet Carolyn
I have kept you in my prayers and hope your CHRISTmas was blessed for you and your lovely family.
I came to send you wishes for a wonderful Happy Happy New Year 2007.
May our friendship grow deeper each year to come and from my home to yours sweet friend, I love you.
Happy Happy New year 2007

28 December 2006 - close in heart to all
Dee |
In Memory Of Lost Lives, New Year's Eve by Robert Dotson was so profound Angel Carolyn.

I so thank you for all the joy you have lovingly shared through the years.

Wishing you an abundance of blessings and good health for 2007 and beyond.

Much love to you...DEE

27 December 2006 - PA
Bill and Doede |
Dearest Carolyn,
I have wondered how you are doing since your surgery? How I hope and I pray your surgery went as it should have and your recovery is going well, without complications. That the lites shinning are brighter for you.
Carolyn, I especially wish for you, as we eneter into this New year, with our Lord and Savior, His Lites to Radiate within your soul and spirit and heart, even more than this year. I am looking to Him more in His Living Words of truth, and spending more moments of quiet time, the two of us. More moments listening to His small still voice. I want to be stronger in our Lord, as I trust in Him and lean on His understanding, as He leads me.
Love you, Precious sister in Christ!
To God Be ALL the Glory!!
Doede

Happy New Year to you Carolyn and those you So Dearly love!

26 December 2006
Melva |
Hello My Friend,
Thank you so much for the sweet and kind message you left in my guestbook...I wish you and your family a very blessed Christmas...
And I wish that sweetness to continue throughout the year...
May our Lord's best always come to you...
Love you very much,
Melva

25 December 2006
John |
Stopping by Carolyn wishing you a Christmas and coming New Year filled with Peace and Love.
May you have a very happy and blessed Merry Christmas.
God Bless and Hugs, John


24 December 2006 - Waynesboro, Virginia
Homer L. Quick
I love that song and being the lead guitarist for a country/gospel band, I have that album!

23 December 2006 - Hiram, Georgia
Gene & MarieJoy |
Dear CarolynJoy,
We wish you a Merry CHRISTmas and a Happy 2007!
Thank you for being a blessing in our lives!
May you be blessed abundantly in all you do!
Love & Hugs, Peace & Joy Always,
~\o/~ wings2u4ever...Gene & MarieJoy ~\o/~
God's Wings Soar Us Above Life's Greatest Storms!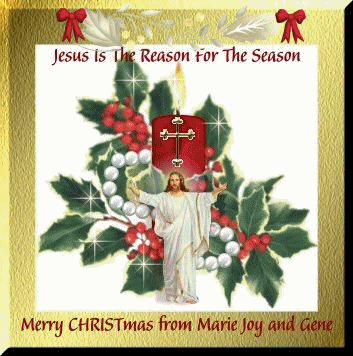 23 December 2006 - Soaring Over IL / USA, Venus, or Mars
Dee |
I find myself drawn again to "Christmas Past ~ Christmas Long Ago" -- and here I am at midnight, my favorite time to visit with dear friends.

As you ended this verse, you spoke so much truth...Yes, a hug and a smile...that is what I needed to read.

Just going through unrest waiting to hear about my ultrasound.

So, thank you for sharing the goodness of what life was like, and I so miss all who were part of it.

My Dad and my brother...especially during the Holidays. I miss them so much.

Thank you dear Carolyn...Have A Very Merry CHRISTmas.

Love, DEE

23 December 2006 - PA
HEATHER |
I want to take this time to wish you and yours a very MERRY CHRISTMAS and HAPPY NEW YEAR, enjoy and be blessed on the day we all celebrate the birth of our savior Jesus Christ. I wish everything good for you throughout the New Year.


22 December 2006 - CALIF
Doris Fuller |
Howdy Carolyn,
I stopped in to wish you a Very Merry Christmas filled with the blessings of love, peace & happiness from Our Lord. May your 2007 be a great year. Love * Hugs

22 December 2006 - Fort Worth Texas USA
The Sherer's
Happy Birthday Jesus!!!!

20 December 2006 - Aurora, Colorado
Remona Hooks
lovely

20 December 2006 - Arkansas
Ronald
Good work!-Good to see that someone REALLY CARES about The Happy Goodmans

19 December 2006 - West Virginia
betty haynes
THANKS FOR YOUR INSPIRING SITE. GOD BLESS AND HAPPY HOLIDAYS.

19 December 2006 - FRANKFORT, OH
BEVERLY BOGAN
A beautiful and most important, urgent message that needs to get out to everyone this time of year. It's a shame we don't know who started this Xmas stuff and we can't confront them on "why?'

19 December 2006

<<< 1 384 385 386 387 388 389 390 391 392 393 394 395 396 397 398 399 400 401 402 403 404 485 >>> Thank You for signing my Guestbook