Add a message : Carolyn's Precious Memories : Search
There are now 7263 messages in our guestbook.
<<< 1 383 384 385 386 387 388 389 390 391 392 393 394 395 396 397 398 399 400 401 402 403 485 >>>
Viewing messages 5881 to 5895.

Sharon/AngelHeart |
Sweet Carolyn,
Was glad to get your update today,and look forward to your next newsletter.
I came to send loving wishes for a Blessed 2007 to you and your lovely family my friend.
We are still alive and kicking, another year, To God goes ALL the glory
I love you!

1 January 2007 - Virginia Beach, Virginia~cold
Gene, MarieJoy, Rachel, & Paul |
"

(((((((Dear Sweet Angel CarolynJoy!)))))))
Thank You for blessing us with your friendship!
We're sending you Love & Hugs,
and pray you a healthy & peaceful
Happy New Year 2007! Loveya CarolynJoy!
www.123glitter.com
31 December 2006 - Soaring Above IL/USA ,Venus or Mars
Vern Gohn |
Thanks for the wonderful websites and the Christian witness. I could almost taste the"Beef Stew" I'll have to try it since my wife's health is bad and I get to do some cooking when my grown daughters are unable to help me out. God is faithful we haven't gone hungry yet :-). I had Corneal implant two years ago and getting ready to have Cataract removed from that eye mid January.I think I kind of understand your uneasiness, Hope and pray all goes well for you.

31 December 2006 - Kannapolis N.C.
Chester F. Young
Got your website from Dedes. Clicked on it, and I liked it very much.

31 December 2006 - Tulsa, Oklahoma
bruce |
I love all of your site, i will be back..

31 December 2006 - ny
Brenda/Sassy
Dearest Carolyn,

I am just dropping by to wish you and yours, a very Happy New Year, my precious friend.

I hope it brings you love, light, peace and happiness. Thank you for your beautiful friendship.

I love you so very much, today and all the year through. Thanks for being you. God bless.

Love Always,
Brenda

Happy New Year

H - ours of happy times with friends and family.
A - bundant time for relaxation.
P - rosperity blessed by Almighty God.
P - lenty of love when you need it the most.
Y - outhful excitement at life's simple pleasures.

N - ights of restful slumber.
E - verything you need.
W - ishing you love and light.

Y - ears and years of good health.
E - njoyment and mirth.
A - angels to watch over you.
R - embrances of a happy years!

31 December 2006 - Salem, Oregon USA
Linda (Reel) Nicholson
Really nice. Thanks for sending it to me.

30 December 2006 - Williamsburg, KY, transplanted from Noblesville, Indiana
Sharon/AngelHeart |
Sweet Carolyn
I have kept you in my prayers and hope your CHRISTmas was blessed for you and your lovely family.
I came to send you wishes for a wonderful Happy Happy New Year 2007.
May our friendship grow deeper each year to come and from my home to yours sweet friend, I love you.
Happy Happy New year 2007

28 December 2006 - close in heart to all
Dee |
In Memory Of Lost Lives, New Year's Eve by Robert Dotson was so profound Angel Carolyn.

I so thank you for all the joy you have lovingly shared through the years.

Wishing you an abundance of blessings and good health for 2007 and beyond.

Much love to you...DEE

27 December 2006 - PA
Bill and Doede |
Dearest Carolyn,
I have wondered how you are doing since your surgery? How I hope and I pray your surgery went as it should have and your recovery is going well, without complications. That the lites shinning are brighter for you.
Carolyn, I especially wish for you, as we eneter into this New year, with our Lord and Savior, His Lites to Radiate within your soul and spirit and heart, even more than this year. I am looking to Him more in His Living Words of truth, and spending more moments of quiet time, the two of us. More moments listening to His small still voice. I want to be stronger in our Lord, as I trust in Him and lean on His understanding, as He leads me.
Love you, Precious sister in Christ!
To God Be ALL the Glory!!
Doede

Happy New Year to you Carolyn and those you So Dearly love!

26 December 2006
Melva |
Hello My Friend,
Thank you so much for the sweet and kind message you left in my guestbook...I wish you and your family a very blessed Christmas...
And I wish that sweetness to continue throughout the year...
May our Lord's best always come to you...
Love you very much,
Melva

25 December 2006
John |
Stopping by Carolyn wishing you a Christmas and coming New Year filled with Peace and Love.
May you have a very happy and blessed Merry Christmas.
God Bless and Hugs, John


24 December 2006 - Waynesboro, Virginia
Homer L. Quick
I love that song and being the lead guitarist for a country/gospel band, I have that album!

23 December 2006 - Hiram, Georgia
Gene & MarieJoy |
Dear CarolynJoy,
We wish you a Merry CHRISTmas and a Happy 2007!
Thank you for being a blessing in our lives!
May you be blessed abundantly in all you do!
Love & Hugs, Peace & Joy Always,
~\o/~ wings2u4ever...Gene & MarieJoy ~\o/~
God's Wings Soar Us Above Life's Greatest Storms!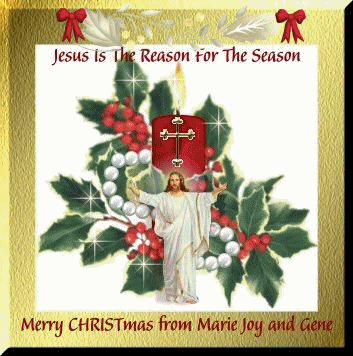 23 December 2006 - Soaring Over IL / USA, Venus, or Mars
Dee |
I find myself drawn again to "Christmas Past ~ Christmas Long Ago" -- and here I am at midnight, my favorite time to visit with dear friends.

As you ended this verse, you spoke so much truth...Yes, a hug and a smile...that is what I needed to read.

Just going through unrest waiting to hear about my ultrasound.

So, thank you for sharing the goodness of what life was like, and I so miss all who were part of it.

My Dad and my brother...especially during the Holidays. I miss them so much.

Thank you dear Carolyn...Have A Very Merry CHRISTmas.

Love, DEE

23 December 2006 - PA

<<< 1 383 384 385 386 387 388 389 390 391 392 393 394 395 396 397 398 399 400 401 402 403 485 >>> Thank You for signing my Guestbook