Add a message : Carolyn's Precious Memories : Search
There are now 7263 messages in our guestbook.
<<< 1 378 379 380 381 382 383 384 385 386 387 388 389 390 391 392 393 394 395 396 397 398 485 >>>
Viewing messages 5806 to 5820.

Elsa and Adria. |
Hi Carolyn.
You should be very proud to have made such a wonderful site for yourself and everyone else to see and enjoy.
I found peaceful, easy feelings on your pages.I saw serenity in your work, and my soul was at rest, my spirit...free. Thank you.
We thoroughly enjoyed our stay. Your pages are lovely, a real breath of fresh air.
Congratulations you have a very entertaining and beautiful site. Thank you so much for sharing it.

If you find the time to visit our site, would you please jot down in our guest book what you think of our pages.
Thank you for the opportunity of visiting your excellent site.
May god bless you and all your family.Ü
Take Care, Elsa and Adrian :-).





Come and Visit My Old CORDENONS, You may like it.

2 March 2007 - Montreal, Quebec, CANADA.
Dark Blue Knight ~ Eddie |
Hello Carolyn,

I know I have left it some time before visiting, but I have been facing some difficult family issues here with my Mother in Law who is critically ill. She has been in hospital since January 5th except for a 10 day period between Feb 17th and Feb 25th. During that time she stayed with us as she now needs care 24 hours a day and it really does not give a lot of time for many other things.

Your page ďíTil The Storm Passes ByĒ is almost perfect for me at this time as we struggle to cope with these issues but know that the storm will pass and during this storm the Lord will guide and protect us.

Thank you for sending your updates and I did sign Amber Linnís book so please let Heather know that I keep you all in my thoughts and prayers. Looking forward to the pages you are going to add to Amber Linnís site.

God bless.


Eddie

1 March 2007 - Brisbane, Australia
billy kirwan
An excellent message in A Galon of Milk. thanks. I have read it before but the message gets sweeter every time

27 February 2007 - Califiornia
Brenda/Sassy |
Carolyn,
Hello again gentle sweet friend. I wanted to stop by and thank you for leaving your heart prints for me in my guest book. I think about you all of the time and I always keep you in my prayers.
I really enjoyed your latest update on your precious Amber Linn, Today You Would Have Been Thirteen. It tugged at every one of my heart strings though. What a beautiful little girl, I am sure you all still miss her. I still miss my son so very much! It always hurts to loose a child.
I hope you are enjoying good weather and that your eyes are still mending properly. I wish I had been as fortunate on my eye surgery. Tell Leon my problem was the doctor put in the wrong lens completely. I am nearsighted and he put the one in for correcting someone who was farsighted and I could not see at all. I had to wait for the first one to heal before he could replace it with the correct lens. I still cannot see and I will need to go soon for glasses.
Well my sweet angel friend, I will say bye for now, have a wonderful day, take care and know I love you with my heart. God bless.
Love Always,
Brenda

25 February 2007 - Salem, Oregon USA
Glyn
Thanks for your updates - more beautiful pages to see.

23 February 2007 - England
faye
what an uplifting website God bless you

21 February 2007 - california
Ken Ellison |
I just spent some quality time enjoying all the upgrades and new pages. You have been working hard and it shows. My spirit is uplifted and Iím renewed. Thank you so much for another spiritual and entertaining experience. Just beautiful.

21 February 2007 - Oregon USA
Doede |
Dearest Carolyn your new page,
Till The Storm Passes By, by JD Summner and the Stamps is beautiful!! Oh How it brings back memories of my daddy and his quartet and our traveling to different concerts. What a blessing it is and Peace that surpasses all our understanding knowing our Jesus will be with us till the storms pass us by!!
Love you, more and more, Sweet Carolyn!
Doede

20 February 2007
Shy |
Dear Carolyn,
What a lovely page you made for Amber Lin, I can't imagine how it would be to lose a child or a grandchild. Isn't it wonderful that we have the comfort of our Lord Jesus to carry us through such sadness and always bring us out. "Til the Storm Passes By" really touched my heart, I feel like I have just been through a storm in my life, and he did keep me safe until it passed by. Our precious little Taylor Nicole will be coming home this week after spending the first 3 months of her life in the hospital and on life support part of that time. Thank you for sharing this with me today, it has lifted my spirits and caused me to reflect on the love that Jesus has for His children.

God bless, keep the pages coming, my love to you and yours, Shy

20 February 2007 - North Carolina
Tina |
Hi Carolyn. How are you? I have been thinking about you lately and wondering if you were doing ok. I enjoyed the pages you sent out to today. Your recipe sounds so good and I was thinking hey, wonder if I could use this recipe using splenda instead of sugar and then I see your note for diabetics. Have to try that. I'm sorry about Amber. I know it is hard. Maybe my mom will give her a birthday hug today for you. Yesterday was 2 months since my mom passed away. It has been so hard for me lately. I guess reality is setting in. The memories all bring tears to my eyes right now and hurt so much. It all seems so strange. To have someone in my life that I was sooo close to and then she is gone. I am sure you experienced all these things as well. I go from trying not to think about her because it hurts. To being afraid I will forget her. Then seeing a memory of her so vivid it is like she is sitting in front of me and then crying again. I guess it is never easy losing someone we love so much! They are smiling down on us today and they know the love we have for them. Thank you Carolyn for sharing these pages with us today. May God bless you today and always!
Love,
Tina

20 February 2007 - TX
Lara S
Hi-ya. That's just how Amber would say it...
I know today is hard on all of you. I just wanted you to know I'm thinking about you! I visited Amber yesterday...left some flowers and a cute little angel (it reminded me of her). I love you!! May God bless you today and always, Mom!
XOXO
Lara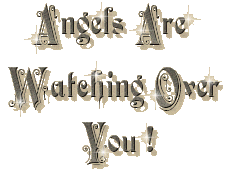 20 February 2007 - Clovis, CA
National Registry of Churches |
God Bless I really enjoy the feel of your site.

20 February 2007 - North Carolina
Mystical Grrl |


Hiya! I've really enjoyed visiting your site - its been a lot of fun!! I'd like to invite you to visit and hopefully join one of The Rumbles newest teams, The Sundaes!



Joining The Rumbles is a great way of showing off your site, and getting to know a lot of really great people at the same time - and more than that, you can now join a really FUN team with a great theme as well!! I hope to see you joining us soon :)



If, for any reason, you would like to join a different team, we would still love to have you!!




19 February 2007 - USA * UK

<<< 1 378 379 380 381 382 383 384 385 386 387 388 389 390 391 392 393 394 395 396 397 398 485 >>> Thank You for signing my Guestbook