Add a message : Carolyn's Precious Memories : Search
There are now 7268 messages in our guestbook.
<<< 1 377 378 379 380 381 382 383 384 385 386 387 388 389 390 391 392 393 394 395 396 397 485 >>>
Viewing messages 5791 to 5805.

jeannette nelson |
wonderful poem that was written by vestals friend and sister

11 March 2007 - State of Iowa
Angelina Veronica |
Dearest Carolyn,
I love the poem "My Mother's Wish. Your site is beautiful. I am glad that my angel Helena sent me your site .
Sharing happiness with others
may seem like such a little thing.
But it's not. The joy you give
not only brightens my day
but for all who enters your home .
May Love, Peace and Harmony be with you always


11 March 2007 - The Netherlands
Abilene |
Carolyn, I enjoyed surfing and looking around at your precious memories. You do have alot to share and its such a blessing to get to share with you. You are a Person of God and a wonderful Savior to Jesus Christ our Lord. God bless you!
img src=http://abileneanderson.tripod.com/sitebuildercontent/sitebuilderpictures/abilene.jpg

10 March 2007 - Hawaii USA
Sharon |
Dearest Carolyn
Thank you dear friend for the beautiful visit and your heart Prints.I always smile and know you are cared about and loved always, Have a blessed weekend ,and ,I hope you are fully on the mend and back to making your beautiful inspirations we all love!

9 March 2007 - Close connected in Heart
HEATHER |
Dear Carolyn, It was so good to see you in my guest book. I think of you often and yes I think of WASCO, I was just telling someone a few days ago, I remember picking grapes, potatoes,Cotton. lol I mean if we wanted to go to a movie on a Saturday, we had to work our little fingers to the bone. lol I have been going through your beautiful web pages, You have a beautiful web site and so much love here. Let's hope we don't have the God Awful heat we had last year in Calif,again this year. Be blessed my friend and come visit again soon, you put a big old smile on my face.



9 March 2007 - CALIF
Dee
Dearest Carolyn...I know I was here just the other day as you were Helena's site of the day, but not sure if my entries are approved.

Hopefully, this comes through with wishes for International Women's Day Greetings.

Much Love, DEE
9 March 2007 - PA
Joyce Ann Geyer |
Dearest Caroline: "A MOTHER'S WISH," is very beautiful on this Happy International Woman's Day. Your site is very beautiful, and I will return. May God Bless you with joy, happiness and love always! ~Angel Hugs~ Joyce

8 March 2007 - West Seneca, New York ~USA~
Dorenda |
Hi Carolyn,
What a wonderful and so beautiful site you have, I very much enjoyed all this beauty. Thank you for sharing.

8 March 2007 - Belgium
Kay C |
Hello Carolyn,
I enjoyed your poem 'My Mothers Wish'. Helena sent me your site as 'Site Of The Day'. I have looked at it some but will have to come back to have a better look. You have your pages designed really nice.
Love Kay

8 March 2007 - Washington State
June |
Dear Carolyn,
I love the poem "My Mother's Wish. Your site is beautiful. I am happy my angel friend Helena sent me to your home.
Congratulations on a job well done.
Hugs,


7 March 2007 - Born in Pa. raised in N.J. living in S.C.
Sharon |
Carolyn..
Thank you for the sweet visit, I havent received any updates from you so hard to keep up:(
But Helena sent you as "Site of the DAY" and she picked a wonderful one, for yours is always an inpiration to all that enter...I hope you are fully on the mend now ,and moving along:)
Love from my home to yours sweet friend, always!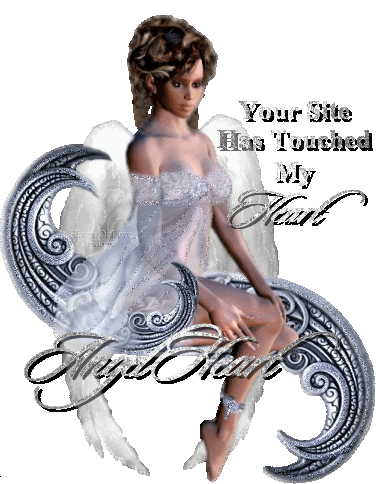 7 March 2007 - Close connected in Heart
Dee
Good Morning my dear Carolyn.
A Mother's Wish is just beautiful and composed by our dear Andrea's Grandmother, Helen Wallen.

My love to you and your loving family.

Love, DEE
7 March 2007 - PA
Margaret |
Just loved your poem a mothers wish its so very true ,god bless Margaret

7 March 2007 - West Australia
Cathy Sanson |
What a beautiful poem. I plan on visiting your site again~~

7 March 2007 - Fall River, Ma
HELENA |
GOOD MORNING,JUST READ A LOVELY POEM CALLED A MOTHERS WISH JUST LOVELY YOUR PAGE WILL BE USED TODAY AS SITE OF THE DAY HOPE YOU GET MANY VISITORS HUGZ HELENA

7 March 2007 - FLORIDA

<<< 1 377 378 379 380 381 382 383 384 385 386 387 388 389 390 391 392 393 394 395 396 397 485 >>> Thank You for signing my Guestbook