Add a message : Carolyn's Precious Memories : Search
There are now 7268 messages in our guestbook.
<<< 1 376 377 378 379 380 381 382 383 384 385 386 387 388 389 390 391 392 393 394 395 396 485 >>>
Viewing messages 5776 to 5790.

Peggy Holder
BEAUTIFUL!!!!!INSPIRING!!!! Thank you so much. Please keep up these pages.

2 April 2007 - Corinth, MS
Mary Stroud
What a beautiful page

1 April 2007 - Edenton, NC
Doug Johnston
Absolutely beautiful site, Carolyn !!!!
All your great graphics & music re-charge me, so I can continue down life's highway !!!!!!!!

31 March 2007 - Alberta, Canada
HEATHER |
Dear Carolyne, my niece just had her first child his name is Sean, he is in intensive care, would you lift him in prayer.
Wishing you and yours a beautiful weekend with lots of smiles.




PROVERBS 26-20,22
WHERE THERE IS NO WOOD, THE FIRE GOES OUT.
AND WHERE THERE IS NO TALEBEARER, STRIF CEASES.
AS CHARCOL IS TO BURNING COALS, AND WOOD TO FIRE,
SO IS A CONTINIOUS MAN TO KINDLE STRIFE.

ISAIAH 2-8
THEIR LAND IS ALSO FULL OF IDOLS, THEY WORSHIP
THE WORK OF THEIR OWN HAND. THAT WHICH THERE
OWN FINGERS HAVE MADE.

29 March 2007 - CALIF
Sharon/AngelHeart |
Sweet Carolyn
My visit with blessings and love is early, as I am not online alot, but had to come say May HE who Has Risen bless you and your family and have a wonderful Easter Season!


27 March 2007 - Close connected in Heart
rosemary
beautiful

26 March 2007 - u.s.a.
sunnie
hi my name is sunnie

24 March 2007
Genny |
Dear Carolyn, I just had to visit your most beautiful site again! Every time I look around, I always feel like I'd like to cuddle up on a cozy chair with a big knitted blanket and read a nice novel! It must be all these brilliant graphics! Your site is such a joy! Your also very welcome to visit me any time! Abundant Blessings to you and your family!

21 March 2007 - USA
Angelina |
Dearest Carolyn
May the road rise up
To meet you,
May the wind be always
At your back,
May the sun shine warm
Upon your face,
And the rains fall soft
Upon your fields
And until we meet again,
May God hold you
In the palm of His hand.
Love Angelina


18 March 2007 - The Netherlands
Dee |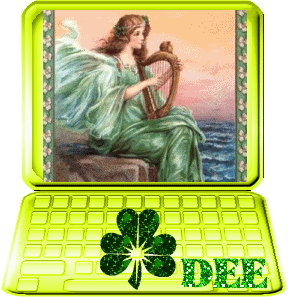 Carolyn, my thoughts and prayers are with Roger Bennett and his loving family.

May he rest in Eternal Peace!

Amen!

DEE

17 March 2007 - PA
Brenda/Sassy
Dearest Carolyn,

I wanted to stop by today to wish you, a dear precious friend, a very Happy St. Patrick's Day.

Thank you for always being there. You are such a sweet and loving person and I feel blessed to know you. I will always treasure your loving and unconditional friendship.

Walk softly with the angels by your side. Thanks again for always being there, but thanks most of all for just being you. God bless.

Love Always,
Brenda



HAPPY ST. PATRICK'S DAY


~ May God Give You ~

For every storm a rainbow,
For every tear a smile.
For every care a promise,
And a blessing in each trial.

For every problem life sends,
A faithful friend to share.
For every sigh a sweet song,
And an answer for each prayer.

16 March 2007 - Salem, Oregon USA
HEATHER |
Hi my friend, stopping by to wish you a happy weekend and St. Paddy's Day.

MAY THE ROAD RISE TO MEET YOU,
MAY THE WIND BE ALWAYS AT YOUR BACK
MAY THE SUN SHINE UPON YOUR FACE
THE RAINS FALL SOFT UPON YOUR FIELDS
AND, UNTIL WE MEET AGAIN,
MAY GOD HOLD YOU IN THE PALM OF HIS HAND


15 March 2007 - CALIF
billy kirwan
love the Gospel music, I think I like Johhny Cash best, but every time I say that, I find another that I like better.

13 March 2007 - CA
Sharon/AngelHeart |
Sweet Carolyn.
I came to leave you wishes and blessings for a wonderful happy toe tappin' St.Patty's Dya my friend and may it be filled with Peace and Blessings to you and yours!
~~~~~~~~~~~~~~~~~~~

May you always have work for your hands to do.
May your pockets hold always a coin or two.
May the sun shine bright on your windowpane.
May the rainbow be certain to follow each rain.
May the hand of a friend always be near you.
And may God fill your heart with gladness to cheer you.

13 March 2007 - close in heart to all my friends
MARY
BEAUTIFUL JOB!

13 March 2007 - MOORE, OK

<<< 1 376 377 378 379 380 381 382 383 384 385 386 387 388 389 390 391 392 393 394 395 396 485 >>> Thank You for signing my Guestbook